There are only a few iconic vehicles out there.  The 1957 Chevrolet, or '57 Chevy is one of them.  For this sketchbook challenge we'll take a shot at drawing this famous vehicle.  There are several complexities about this drawing, but we'll simplify the process down by drawing basic shapes.
Take your time on each step and watch the drawing develop. We'll simply break down the car into a few simple shapes and build the car up from there, progressively getting stronger with the marks that are made.

Step One – Start by drawing a rectangular form.  This form will be the main body of the car.  It should appear a bit larger at the front and then slightly taper as it recedes back in space.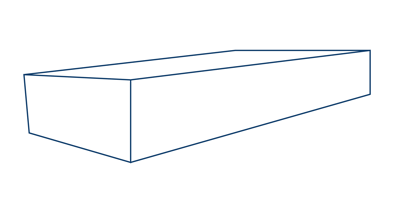 Step Two – Next, draw a smaller rectangular form on the back half of the first form.  This form will become the cabin of the car.  The back edge of the form should slant slightly downward toward the back of the vehicle.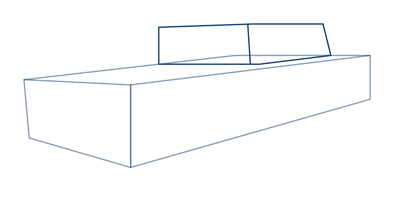 Step Three – In this step of the drawing, we can begin to add some of the curves and subtle details.  We can simply use the forms that we drew in the previous steps as a guide to build upon.  A couple of ovals do the trick for the wheels and headlights.  And with a  few more curved lines, the car begins to take shape.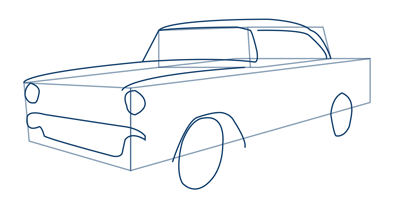 Step Four – In this step we'll add a few more lines to indicate the rest of the cabin.  We can also add the iconic shape on the side of the car that makes the drawing really start to resemble a 57 Chevy.  A few more details are added to the wheels and the grill, as well as a "V" shape to determine the placement of the hood ornament.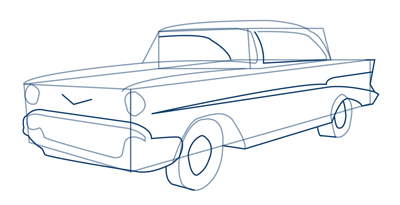 Step Five – Lastly, using the information that we drew in the previous steps of the drawing, we can finish the image.  Shading and details bring the drawing to completion.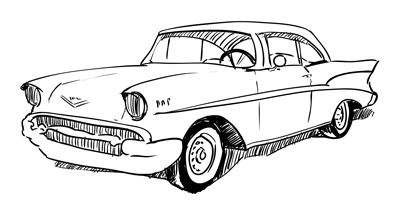 ---