In this tutorial, we'll take a look at drawing another figure in motion. In this challenge, we'll look at how to draw a basketball player, step by step. We'll start by establishing the length of the figure.  From there, we'll build out the basic structure of the player using shapes.  Lastly, we'll add details and complete the drawing.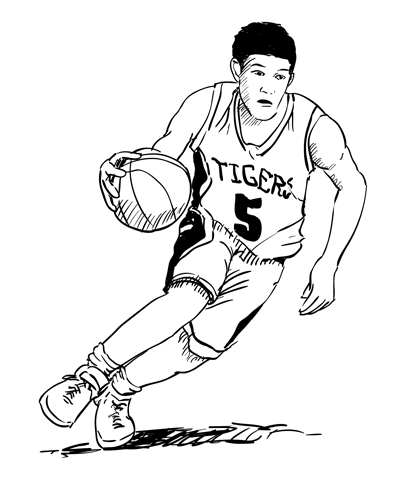 Step 1 – Draw a Line for the Length, Shoulders, and Waist
Just like with the other figure drawing tutorials, we'll start with a line from the head to the feet.  This will ensure that we are able to fit the entire figure on the picture plane. Since the figure is in motion, we'll draw the line with a "sectioned" diagonal line that bends at the waist.  We'll also draw a line for the shoulders and a line for the waist.  The line drawn for the waist is also drawn at a diagonal. Step 2 – Draw a Stick Figure
Next, we'll build out the bone structure of the basketball player by drawing a stick figure.  Lines are drawn for the bones and shapes are drawn for the hands, feet, and the head.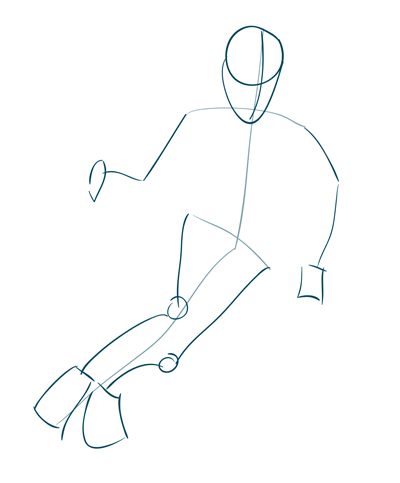 Step 3 – Thicken Up of The Form
Next, we'll use the "stick figure" to build up the form of the figure.  Simple, geometric shapes are drawn for each of the body sections.  Lines are also drawn for the locations of the facial features.  We'll also draw the shape for the basketball.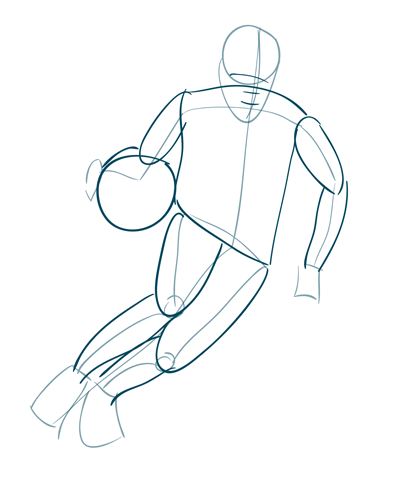 Step 4 – Draw the Uniform and Initial Details
Next, we can draw the lines for the uniform.  We can also draw the initial details of the facial features and define  the fingers with a few lines.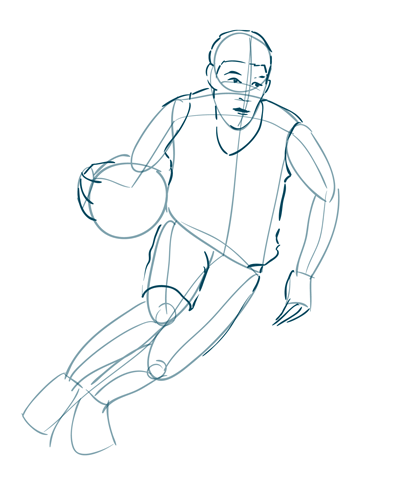 Step 5 – Finish the Drawing
Now we have a solid structure from which the drawing can be completed.  We'll add all of the details by drawing over the guidelines that we have drawn.  Details are added to the uniform, and to add a bit of contrast and interest, we'll make some areas dark.  Details such as the socks and the shoes are easily added.  A bit of shading is added to further the illusion of form.  Cast shadow is drawn under the basketball player as well.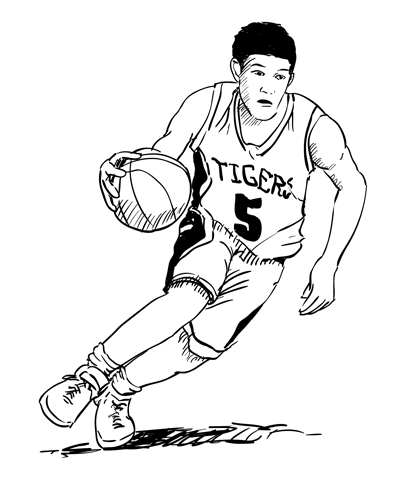 ---