A Lamborghini – I always wanted one when I was a kid.  I had posters of the car up in my room everywhere.  Sure, I would have been glad to have a Ferrari (who wouldn't), but what I really wanted was a Lamborghini.  
If you can't own one, I guess the next best thing is to be able to draw one.  This sketchbook challenge takes a look at drawing a Lamborghini, step by step.  Here's how to draw a Lamborghini…
Step 1 – Draw a Basic Form
The first thing that we'll need to do is define the basic form of the car.  In this case, we'll draw a modified box.  The front edge of the car leans forward, while the back edge is basically straight up.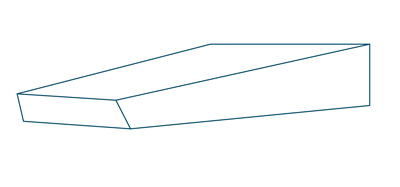 Step 2 – Draw the Roof of the Car
Next, using the modified box as a starting point, we'll draw the top of the car.  Two lines are taken from the corners of the front of the box.  They are connected using a horizontal line and then extended with a slight curve towards the rear of the form.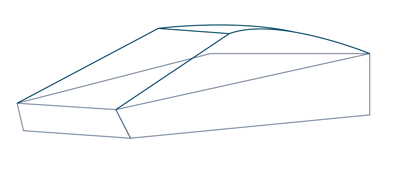 Step 3 – "Carve" Out the Body
Now, that we've established the basic form of the car, we can start to add the styling of the body.  We'll define the location of the wheels first and then add some curves to the wheel wells.  The backend is also curved off.  The roof also receives a couple of lines to detail the cabin.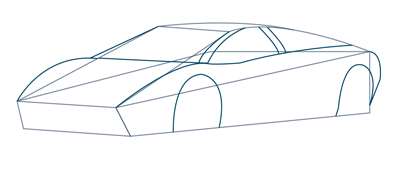 Step 4 – Continue Detailing the Body
We'll continue to build on the body of the car in this step by simply adding a few more lines.  A couple of lines are added on the hood of the car and on the cabin.  The bottom of the body of the Lamborghini also receives ground effects.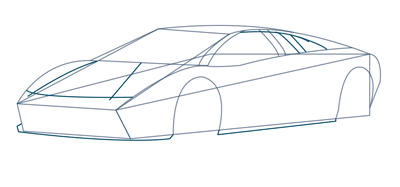 Step 5 – Add the Wheels and Tires
In this step we'll add a couple more lines on the hood of the car for the lights.  We'll also add a few more lines for details on the midsection of the car.  Wheels and tires are added as well.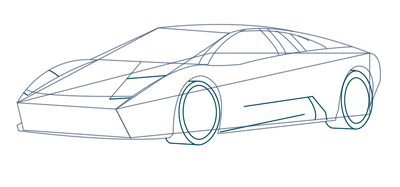 Step 6 – Add Details to the Wheels and Body
With the wheels and tires defined, we can add details to wheels.  These wheels have a very distinctive pattern.  A few more lines are added to the front bumper of the car, defining the front openings.  Rear view mirrors are also added, so that the driver can see all the people  he/she is passing.   
Step 7 – Finish Off the Drawing
Now all that's left is to finish off the drawing using ink, or another medium of your choice.  Darken in areas like the tires and inside of the cabin.  Add a few areas of core shadow and cast shadow to create the illusion of form.  Erase any pencil lines that may be left to clean up your drawing.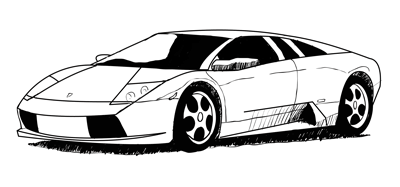 ---