In this step by step tutorial, we'll take a look at how to draw a seahorse. Just like drawing any other sea creature – or any creature for that matter – we'll break the subject down into "easy to draw" shapes. Once we have the basic shapes in place, we'll add the contour lines and finish off the details.
Step 1 – Draw The Head, Body, and a Line
We'll start by drawing a simple oval for the head. We can bring a curved line down for the spine and connect it to another simple oval for the body. It's okay to stay loose and draw several lines as we are just figuring out the relationship between the head and the bulk of the body.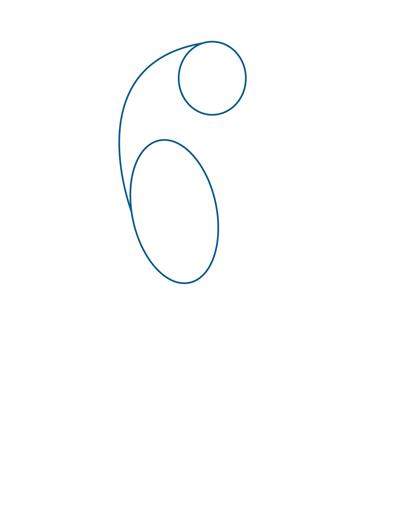 Step 2 – Draw The Neck, A Line for the Tail, and a Shape For the Snout
Now we'll draw another slightly curved line for the front of the neck, along with a longer line for the tail. The line drawn for the tail curls around on the bottom and reaches down almost double the length of the portion that we drew in step one. We'll also add a triangular shape for the snout of the seahorse.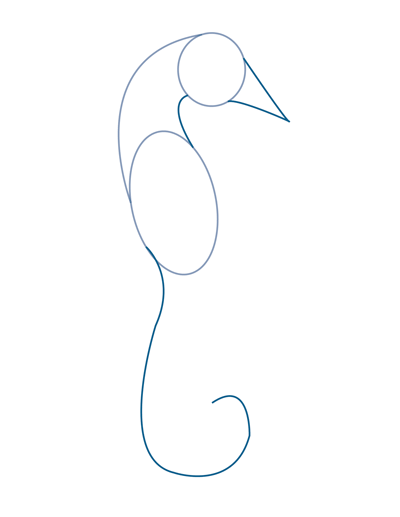 Step 3 – Extend the Snout and Finish Off the Shape for the Tail
In this step, we'll extend the shape that we drew for the snout by adding an additional organic shape on the end. We'll also draw a simple curved line to finish off the front side of the tail.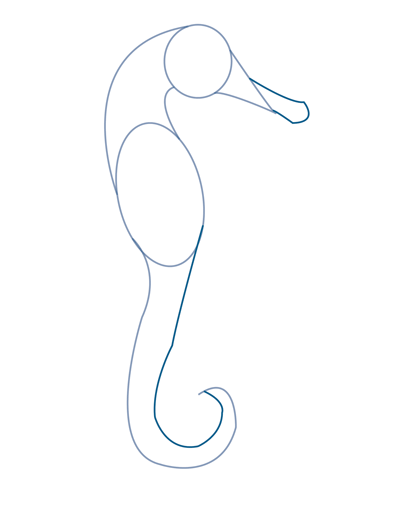 Step 4 – Begin Adding Details
Now that we have the basic structure of the seahorse on paper, we can begin adding a few of the details. Things start to become a little more interesting now. We'll add the dorsal fin on the lower portion of the back. A few triangular marks are adding in several locations around the outer edge of the animal and a circle is drawn for the eye. We'll also draw a slightly curved line half-way down the middle portion of the body of the seahorse.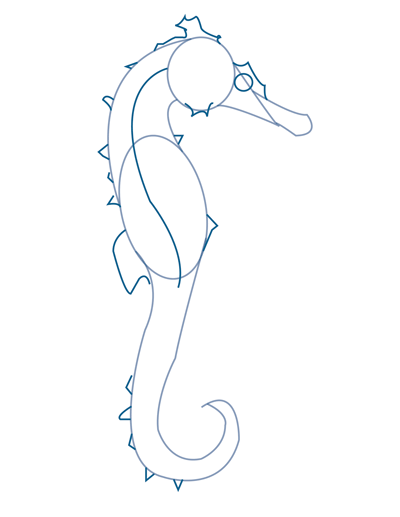 Step 5 – Finish the Drawing of the Seahorse
We'll continue adding details to the drawing, especially inside of the shape that we created for the body. Mostly the lines added here flow over the cross contours of the form of the seahorse. We'll add a bit of texture to the dorsal fin and add a bit of a background. This is one case where it's perfectly okay to have your subject look like it's floating!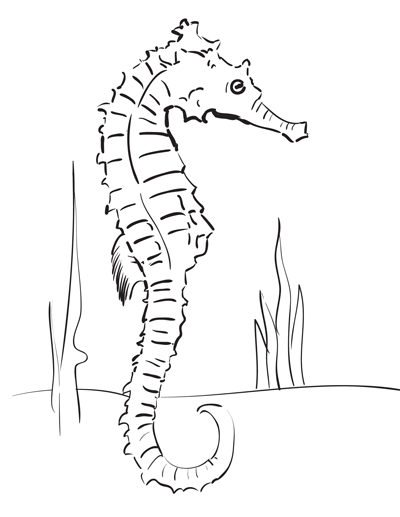 ---