In this drawing challenge, we'll take a look at drawing a penguin, step by step.  In case you missed the previous 45 drawing challenges, you can check them out here.
In this tutorial, we'll break the shape of the penguin down into simple shapes.  We'll draw layered shapes in each step of the process until we have created the accurate shape of the penguin.  Then we'll finish the drawing using the structure that we have drawn as a guide.  This approach can be taken for just about any subject matter that you are looking to draw.
Let's get started…
 Step 1 – Draw Shapes for the Body and the Head
Our penguin is gingerly walking to the left of the viewer.  (it definitely isn't flying.)  To make the penguin look like he is moving in this direction, we'll position the initial shapes at a slight diagonal.  A tall oval is drawn for the main portion of the body.  Overlapping it, a smaller oval is drawn for the head.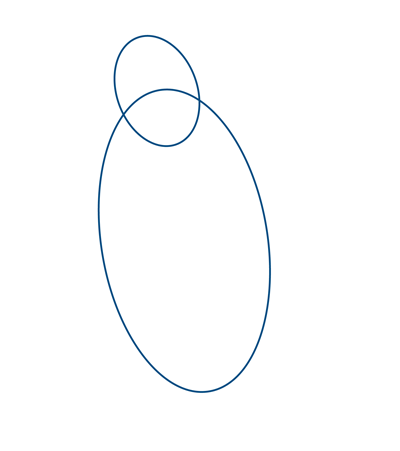 Step 2 – Draw a Shape for the Beak and Lines for the Wings
Next, a shape is drawn for the beak protruding off from the oval that was drawn for the head.  This shape is drawn slightly turned upwards.  A couple of lines are also drawn to establish the initial locations of the wings.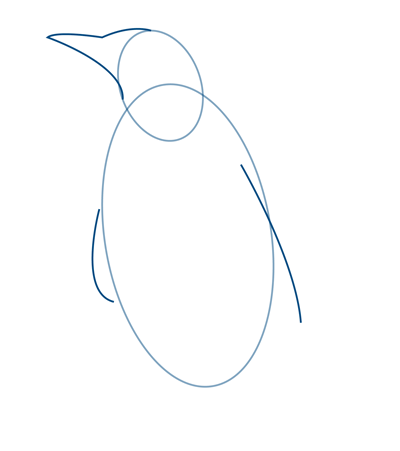 Step 3 – Draw the Eye, Tail, and Shapes for the Legs
In this step, we'll draw a shape for the tail of the penguin and a couple of simple shapes for the legs.  We'll add the feet in the next step.  A line is also drawn down the middle of the beak.  A small oval is drawn for the eye where the head the and the beak shape meet.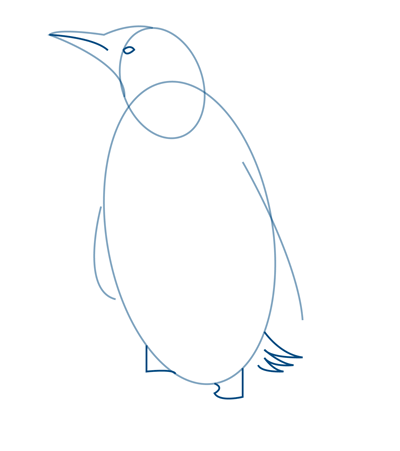 Step 4 – Draw the Feet, Refine the Body Shape and the Wings
Now, we'll add a a couple of shapes for the feet under the legs. We also can refine the overall shape of the body, using the guidelines to help us.  Additional lines are added to the wings to finish off the shapes for the wings.  Also, a line is drawn to make the beak appear slightly open.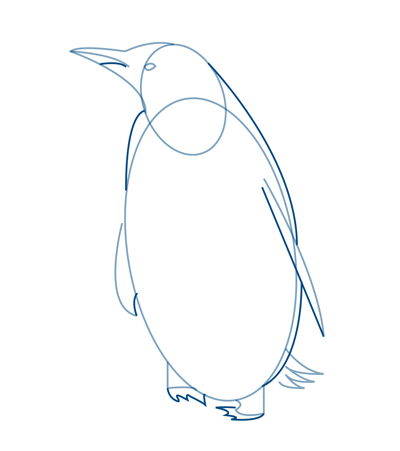 Step 5 – Finish the Drawing
Now, we have developed enough information in the previous steps to finish the drawing.  Using a dark medium, we can fill in the top portion of the head of the penguin, leaving light spaces in the beak area, around the eyes, and a bit on the head.  The dark areas are also found on the back of the wings, and down the back of the penguin.
A horizon line can also be drawn behind the penguin to make him appear to be in a natural environment, instead of "floating" on the paper.  Any stray lines that may been created during the drawing process can be erased, leaving a "crisp" and clean drawing of a penguin.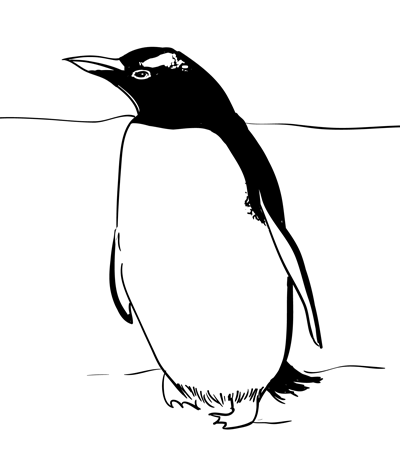 ---